He/Him Nuts Bar
Other chocolate brands make you feel like a shell of a man. Jeremy's HeHim identifies as decadent, satisfying, and contains real nuts. As it should.
1.5oz bar
Milk chocolate
Almonds
Certified Kosher
Made with Fair Trade Cocoa
Soy-Free
INGREDIENTS: FAIR TRADE COCOA BUTTER, FAIR TRADE ORGANIC CANE SUGAR, DRIED MILK POWDER, DRY ROASTED DICED ALMONDS, FAIR TRADE COCOA POWDER

CONTAINS: MILK, ALMONDS
MANUFACTURED IN A FACILITY THAT ALSO PROCESSES: MILK, WHEAT, PEANUTS, ALMOND, COCONUT, HAZELNUTS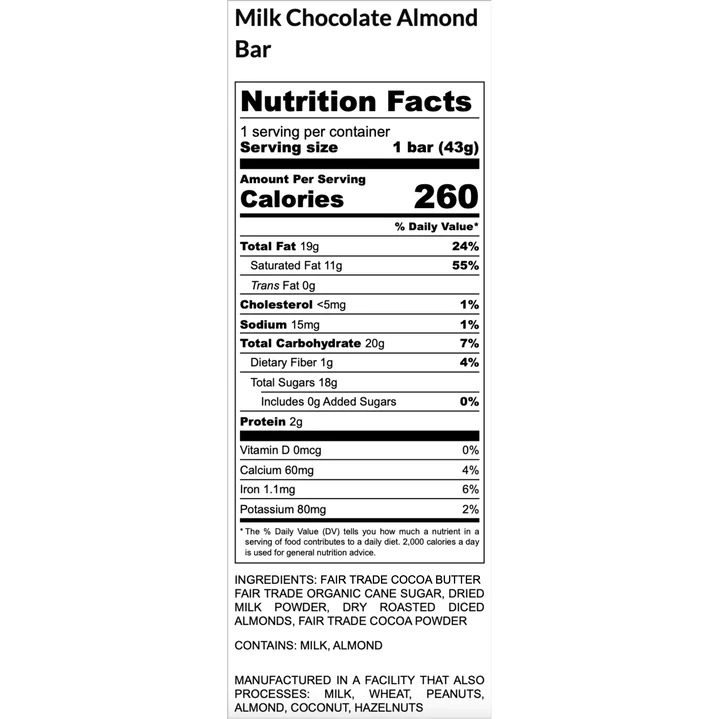 She/Her Nutless Bar
Smooth, full-bodied, and naturally nutless.
1.5oz bar
Milk chocolate
Certified Kosher
Made with Fair Trade Cocoa
Soy-Free
INGREDIENTS: FAIR TRADE COCOA BUTTER, FAIR TRADE ORGANIC CANE SUGAR, DRIED MILK POWDER, FAIR TRADE COCOA POWDER
CONTAINS: MILK
MANUFACTURED IN A FACILITY THAT ALSO PROCESSES: MILK, WHEAT, PEANUTS, ALMOND, COCONUT, HAZELNUTS